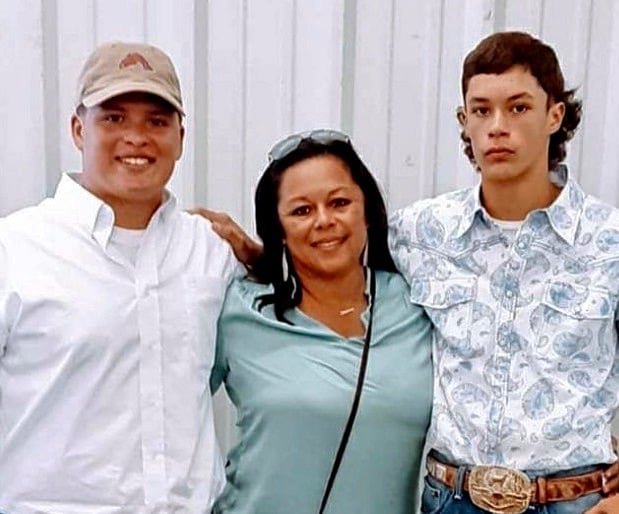 By Derrick Smith
Lucy Villarreal Kahla is the mother of two sons. One is a graduate of Altus High School and the other is currently a student at Altus. To say that she is proud of her boys would be an understatement.

"My son Noah graduated from Altus in 2017," she said. "He played football and baseball for Altus, but football was his forte. He excelled tremendously on the Football field. He is currently living in Winnie, Texas. He is the most kindhearted, caring, giving, and respectful young man you'd ever want to meet. Bryce, my youngest son, is a senior at Altus. He also plays football and baseball like his brother, but total opposite. baseball is his forte. He is the starting quarterback, a position he took over last school year, and does very well. I believe his ability to be so accurate with throwing the football comes from his years of pitching the baseball."
Lucy served in the United States Army and currently works at the VA. She that she enjoys it because it allows her to help others.
"I have been chosen as the New Purchasing Agent for Prosthetics at the VA. I also recently received my state certification as a CNA, so I'm looking forward to doing that part-time as well. Helping and giving back to the Vets is minute compared to what they have done for us. I love helping others."
Family is a big part of her life and Lucy says that there is a good reason for that.
"In my free time. I absolutely love spending time with my family," she said. "I come from a family of ten so family get-togethers are something to look forward to always. Unfortunately, we lost a sister to Covid in late August of 2020. And we lost our mother three years ago so family time is a must. We just don't know how much time we have to love and be there for one another."
Kahla says that she is so proud to be a part of a great community and school.
"I love Altus High School," she stated. "And honestly, Altus Public Schools in general. Our Superintendent is spectacular. He is super involved with all the children and faculty. We couldn't ask for a better person to lead the APS system. I think we have a good thing going in our community. It is a very family-oriented community. I love that."